2017 All Things Green: Sustainable Community, Home, Business and Urban Farm
The 30th Urban Forestry and Green Infrastructure Conference & Awards 
Registration is still open and we accept walk-ins day of event. 
All Things Sustainable: For Greener Community, Home, Business and Urban Farm
30th Urban forestry and green infrastructure conference and awards
October 4 & 5, 2017
MS Agriculture Museum, Jackson, MS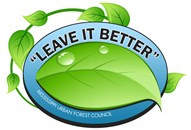 Full Agenda and Registration (click here)  
Speakers (click here)
Showcasing the latest in green issues and projects that can improve your community, neighborhood, home or business property: green infrastructure,  urban forestry, Mayor's green plans, resources, agriculture in town, revitalization, economic development, beautification, pollinators, waste water, storm preparedness, trees that bloom, fruit and pollinate, workplace safety, surface and waste water management, soil fertility and chemicals, green income boosters, greening communities-the challenges and solutions plus more.
Full agenda and registration available at Mississippi Urban Forest Council web site, (www.msurbanforest.com), FB page or request information from Donna Yowell at dyowell@aol.com or text/call (601) 672-0755. Scholarships are available on a limited basis for elected officials.  Exhibitors and sponsors invited. Continuing education hours for elected officials, arborists, parks and recreational, engineers, landscape architects, public works, food farmers, Master Gardeners, foresters and other professionals. 
Would you like to highlight the green projects and initiatives in your community? This 30th awards program recognizes a variety of recipients for their outstanding work in greening communities statewide. We will recognize cities, arboretums, model projects, green mayors, developers, school or civic groups, individuals, Tree City USA, and others that have made a significant impact on places we live, work, and play.  Nominate a candidate today and share the success of your community. Nomination forms can be obtained from Donna Yowell at dyowell@aol.com or on the www.msurbanforest.com web site.